Resistencia Sin Tregua: Relentless resistance, south of Madrid.
Valdemoro is a Spanish municipality 30km south of Madrid which has, as here in the UK, experienced a rise in far-right street violence in recent years. Antifascist groups from Valdemoro, and neighbouring town Ciempozuelos, have called for a demonstration on 27 Sept in response to this escalating violence, in particular to an incident in August involving a neo-Nazi stabbing someone (click the images below for links to the antifascist reports).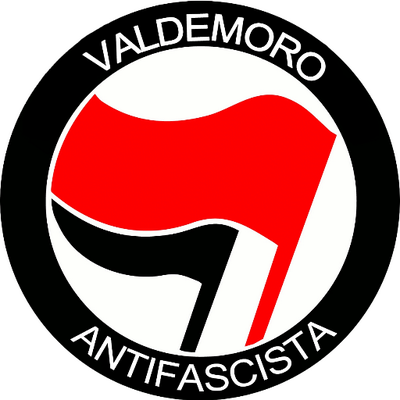 Twitter: @AntifaValde
http://antifavaldemoro.wordpress.com/
Twitter: @AntifaCiempo
http://ciempozuelosantifa.wordpress.com/
In statements from their blog Valdemoro antifascists draw attention to special details unique to their area, namely that the "municipality's recent history is closely linked to that of the Guardia Civil. Valdemoro is home to the Colegio de Guardias Jóvenes Duque de Ahumada, an academy open only to children and orphans of existing guardsmen" (source). They describe how it is "known to all the close relationship between the repressive forces of the state with groups of extreme right […] for years, the Valdemoreño village is witnessing the rise of fascism in the streets, materializing this in posters, stickers, graffiti and assaults" (translated from source). Posts on both blogs state that they will not allow "genocidal ideologies like Nazism and fascism continue starring in these episodes of gratuitous violence on the streets of Valdemoro. The working people of Valdemoro continue organizing to stand up to this virus that lives on in today's society." UKAktion stands in solidarity with the antifascists of Valdemoro, fighting not only the far-right but also the centrality of state authority in the history of their area.
Demonstration details are as follows, share and spread around, hashtag on the day is #27S.
Sábado 27 de septiembre 18:30h
Plaza del ayuntamiento de Valdemoro / Estación de renfe.
Convoca: Bloque joven Valdemoro, Cjc Valdemoro, Valdemoro Antifascista.
Apoya: Coordinadora Antifascista de Madrid, Resistencia 16 Pinto, Madres contra la represión, Asamblea Vivienda Valdemoro, Asamblea Popular Valdemoro
Saturday September 27, 18: 30h
Stockexchange Valdemoro / Renfe station.
Meet point: Young Block Valdemoro, Cjc Valdemoro, Valdemoro Antifascista.
Supports: Antifascist Coordinator of Madrid, Resistance 16 Pinto, Mothers against the repression Valdemoro Housing Assembly, Assembly Popular Valdemoro
Also, for easy tweets:
Good luck to all those out on the 27th, and solidarity to Spanish antifascists standing against fascist violence and state repression.
¡No pasarán!